What Is "Softshell"?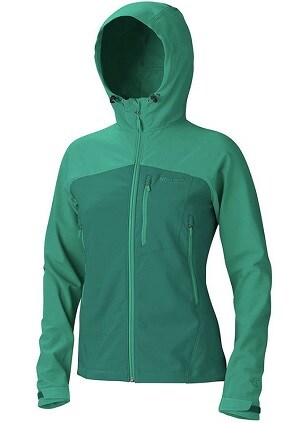 Softshell is a class of knit or woven materials, made from polyester and nylon, used to make technical outdoor clothing that essentially bridges the gap between waterproof hardshell jackets and highly breathable fleece jackets. They're more breathable (but less water and wind resistant), more flexible, and generally more durable than hardshell materials, and more protective than fleece. Softshells emerged in the early to mid-2000s in outdoor activities like climbing and mountaineering—aerobic activities with dynamic weather conditions, where a highly breathable, somewhat waterproof, somewhat windproof piece of technical clothing kept its wearer  moving, dry, and warm.
Softshells are designed with aerobic activities in mind. They perform the best when the wearer's heart rate is high and weather conditions are variable. Most softshell materials trade some measure of waterproof-ness or windproof-ness for breathability and stretch, important qualities for activities like climbing, mountaineering, ski-touring, backpacking, cycling, and running.

Softshells vs. Hardshells
So what are the key differences between "softshell" and "hardshell"? Hardshell materials feature a woven face fabric laminated to breathable waterproof membranes (think Gore-Tex) or micro-porous coatings (there are a few dozen in-house proprietary coatings, The North Face's HyVent and Marmot's PreCip technologies are some of the most popular). These technologies keep out precipitation, but still allow for perspiration and water vapor to "breathe" from the garment—or at least some perspiration. As advanced as hardshell technologies are, with any hardshell, a measure of water vapor will be trapped inside the garment. In high-heart-rate activities—say, through-hiking the Divide Trail—this means that even though your hardshell rain jacket is keeping out an afternoon thundershower, it's also keeping you clammy and damp with perspiration and condensation.
On the other hand, many (but not all; more on that later) softshells rely only on a DWR coating on the surface of the fabric to keep out moisture. As a result, they sacrifice a measure of water and windproof-ness in favor of breathability, an important quality for aerobic activities. They're also quieter and, thanks to a fleecy inner face, softer to the touch. This makes them more comfortable to wear, particularly with short- or no-sleeve shirts. On the downside, softshells are much less "packable" than hardshells—softshells tend to be somewhat bulkier and heavier as a function of their insulating properties.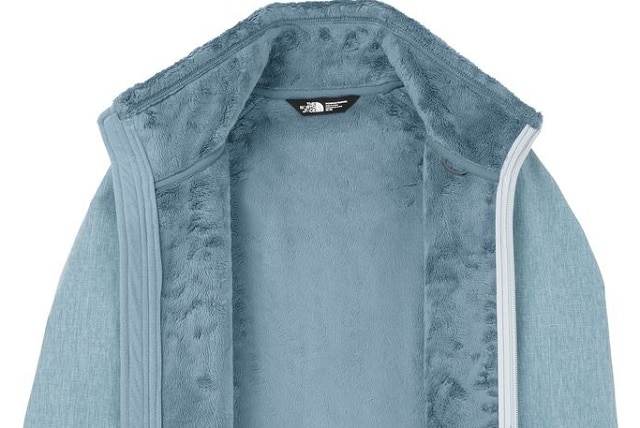 Softshell backers can range from a relatively smooth brushed surface to the cozy high-pile fleece of The North Face Women's Chromium Thermal Softshell.
Softshells vs. Fleece
A softshell may be made of hard-faced fleece—a fleece material with a woven "face" to increase wind and water resistance—but a softshell is not a fleece. Fleeces are soft, napped insulating fabrics made from synthetics or wool. Though fleeces are highly breathable, they are neither wind nor water resistant. WindStopper fleece presents an obvious exception to the rule: by laminating a wind-stopping membrane to the inside of fleece, the folks at W.L. Gore have created a fleece that is somewhat breathable, very wind resistant, but minimally water resistant. Softshells are typically wind and water resistant, and don't pill or generate lint and pet-hair-attracting static, significant advantages over fleece.
Types of Softshells
"Softshell" covers a huge range of designs, technologies, and materials. Lightweight stretch-woven softshells are wind-resistant, water-repellent outer layers, but they're breathable enough to keep a wearer dry in lighter precipitation during high-heart-rate activities like backpacking, cycling, and cross-country skiing. They're also lighter weight, and can serve as a mid-layer under a hard shell.
Other softshells are designed for colder weather and wetter conditions, with windproof or waterproof laminates that make them more wind- and water-resistant. The most water-resistant softshells often have features similar features to hardshells, like taped seams and waterproof membranes. On the downside, they will be heavier and less breathable than stretch-woven softshells. But if you're more concerned about weather protection than breathability or comfort during aerobic activities, these could be the choice for you.
Many jackets now feature a mix of softshell fabrics to balance protection with breathability, with burlier laminated fabric at the core and shoulders and more breathable fabric everywhere else.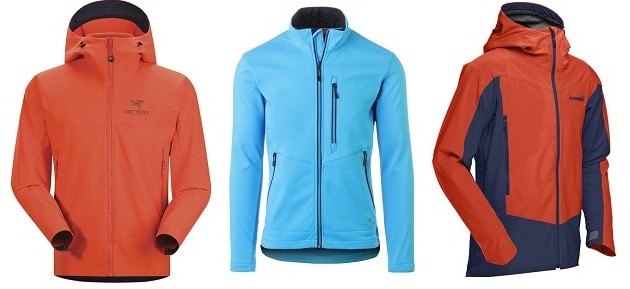 Three types of softshell, from left to right: the Arc'teryx Gamma LT hoodie, a lightweight stretch woven jacket; the Basin and Range Silver Fork laminated softshell; and a hybrid jacket with both lightweight and heavyweight panels, the Norrona Falketind Hybrid Jacket.
The Takeaway
Softshells are breathable, hard-wearing, water-resistant, wind-resistant pieces of clothing that offer wearers freedom of movement and insulation for aerobic activities in dynamic weather conditions. Can a softshell replace your trusty hardshell in sustained rain or snowfall? Probably not. What softshells do best is keep you warm and dry while your heart rate is up in windy and/or damp weather, and you'll probably find yourself reaching for it at many other times as well.